Project Development Timeline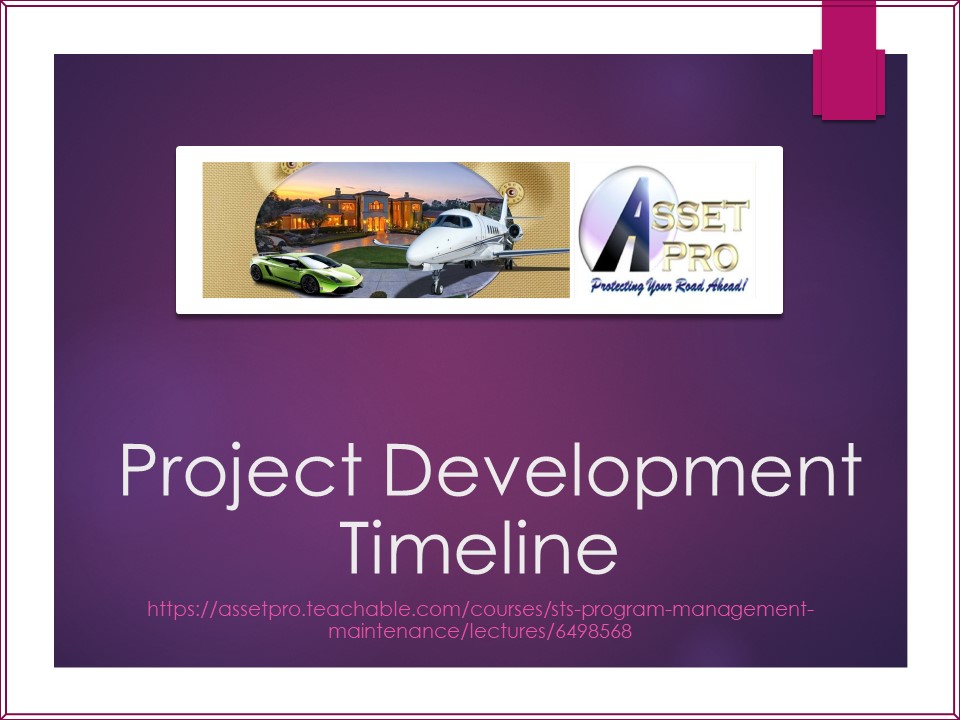 We sincerely thank and congratulate you in advance for enrolling in this e-learning STS Program - Management & Maintenance course. Our primary mission is to produce, deploy, and facilitate the best online educational tool for Trustees, Successor Trustees, Managers, and Administrators of the Specialized Trust Strategy, commonly known as the STS Program, formerly offered to hundreds of clients like you through Master's Protection Group.
The Past
For long-time alumni of the STS Program offered through MPG by Michael Clark, you will quickly come to appreciate this valuable learning platform which finally brings the understanding and mentorship of the STS into the 21st century. Prior to the development of tools such as this platform by Teachable.com, instructors like Michael relied on personal and small group meetings, seminars, conference calls, and recorded call-in shows to educate masses of clients slowly and inefficiently, using outdated technology.
Each week, clients would email questions that would hopefully be answered on the next call-in show. Sometimes the questions were misunderstood, or not fully answered, or forgotten altogether. Follow-up emails would go missing to spam filters, not be received, or pushed down in the queue so far that they would be neglected. One of the pitfalls of relying on such outdated customer service methods is that commonly asked questions that may have been answered on a previous show, would be asked again by numerous clients (both old and new) and would clutter MPG's email boxes to the point of becoming impossible to get to. Clients were thus forced to listen to the archives in search of their answers using a system that was not sufficiently indexed to make it easy to find the relevant lectures and materials needed to solve immediate challenges. We will change all that with this course.
To make matters worse, the burden of answering repetitive questions distracted MPG from the more crucial tasks of dealing with real issues like lien filings, legal responses to contractor challenges, research, and general administrative assistance to clients.
The Future
Thanks to Teachable.com and our vision, we can now largely automate and direct the teaching process into an on-demand learning platform where you will be able to learn at your own pace, and on your own schedule, while ensuring a smooth transition to your successor trustees and certificate holders. After all, you acquired the STS for the purposes of leaving a living trust legacy to the next generation, and this AssetPro school will allow for an easy transition after you are departed.
By providing a self-learning structure, much of our time can be spent on tasks such as:
developing new content
conducting endless research on what is occurring in law
learning from clients' experiences what really works in the field and what doesn't
developing new protocols for all clients
creating databases of valuable third party contacts
assisting clients with admin and legal responses,
and much more.
Annual Maintenance Fees
All of these ambitious goals will take many months to develop and will require ongoing support to maintain this platform. As with the annual maintenance fee you paid to MPG, the cost to provide service was built in to the annual fee to help keep the office open, prepare the material for the weekly calls, organize seminars, develop slideshow content, travel to other cities to speak at events, file annual reports on behalf of the LLC, research case law, and respond to legal attacks that several clients would experience each year.
As with car insurance, we all pay into a pool of funds that covers an accident if, and when, we ever have one. Of course, the hope is that we never need to make a claim but, the peace of mind is knowing that disaster is covered if an accident happens.
Similarly, having a knowledgeable and trusted third party to respond on your behalf in case of an attack, is crucial to the protection built in to the trust program. This arms-length, independent, third party person called a Non-voting Representative Trustee (Trust Services) was in place to accept service notices, respond to attack letters, and operate as the face of the trust. As Registered Agent, MPG existed to help file annual entity reports, register documents as required with various agencies, and provide general administrative services on behalf of the Trust.
Many times the annual maintenance fee you remitted was used to cover the time-sensitive, urgent, detailed, and time-consuming process of responding to legal attacks against other contractors, just as your car insurance premiums would be used to cover other insured's accidents. Assisting a portion of the clients attacked each year would be paid out of these pooled maintenance fees. Likewise, should you ever come under attack (i.e. need to make a claim), other Trustee's maintenance fees would come to your rescue for you. This is the nature of pooled risk insurance programs. Of course, as was with MPG, there will be a limit to the coverage your receive based on your level of annual course fee, but extra time can always be purchased for more lengthy attacks. With proper education, we hope to minimize the need for responding to future attacks and can instead focus on teaching, training, and self-empowering you to set things up properly to avoid attacks in the first place.
Our primary goal is the development and maintenance of the course training material, which requires much pooled resources to accomplish. this platform also charges substantial hosting fees and credit card processing fees to make this technology available to us. This is why we require ongoing course subscription fees to deliver on what we promise and on what STS clients have been telling us they require. A portion of the annual fees you were paying to MPG helped to cover some of these types of costs, but nowhere near enough to get the job done properly. With your support, we will accomplish the goal of leaving an educational training legacy to you and your successors, as Michael had always intended.
Sincerely, James and Coral
Project Development Timeline
The following is a fluid outline for what we intend to develop over the next several months and years, as your needs and the law evolves to influence the STS Program.
For these and more projects I am currently working on, simply click on a card in the table below to expand the window, read the description, see the expected development dates, and to click on any links to navigate to the item directly.
RESOURCE LIBRARY
FORMS: Ongoing creation of a reference library of downloadable forms for anything that might be required in the administration of the STS. For example, templates for lien filings, minute orders, powers of attorney, tax filings, entity registrations, Oaths of Confidentiality, Non-disclosure Agreements, contractor agreements, purchase and sales agreements, quit claim deeds, legal responses, and so on.
TALKSHOE ARCHIVES: We have every single Monday night call-in show that Michael had provided since 2012. There are about 250 shows that need to be listened to, segmented, edited, and organized into a vast library of sortable, searchable, and logically-arranged Questions and Answers. We intend to pull out the best content from those recordings on the vast array of topics that Michael discussed over the years, and provide an audio / visual database that will allow clients to not only listen to, but watch slides and examples of what he is talking about as you listen to his answers. Yes, Michael will live on in digital form! This will take many months to put together and thousands of man hours to index and organize. We will start with the most recent broadcasts and work backwards in time. It is likely that just the last 2 years may be required if older content appears to be out of date; only time will tell once we commence this task. In the interim, you have access to all previous unedited calls right now under the Resource Library section.
FAQ DATABASE
(October 2018-June 2019)
FAQ Database: Transition and further development of our current website database of Frequently Asked Questions into this more secure and private platform. These will be FAQ's that may or may not have been answered by Michael on a weekly call but for which we have immediate answers for and can be posted prior to the Talkshoe Archives project. This database will be sortable, searchable, and comprehensive. It will evolve over time and be updated as answers change with the times.